Celebrate the warm weather with this Strawberry Basil Margarita from AllRecipes.com. The combination of basil and strawberries work with tequila to make a delicious and refreshing blended cocktail.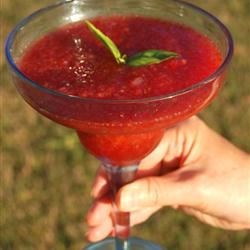 Ingredients
1 cup hulled strawberries
1/4 cup tequila
1 tablespoon orange-flavored liquor
1 tablespoon lemon juice
2 tablespoons white sugar
3 large basil leaves
8 ice cubes

Directions:
Combine the strawberries, tequila, orange-flavored liqueur, lemon juice, sugar, and basil leaves in a blender; mix on low until smooth. Add the ice and puree until the ice is crushed, 30 to 60 seconds.