With cooler weather comes fun fall flavor opportunities. Take cues from the season's popular produce and craft beverages that evoke autumn's essence. Read these ideas for healthful fall beverage inspiration: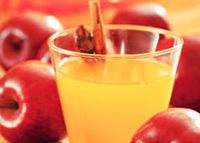 Apple cider. Create your own signature apple cider that'll keep guests coming back for more. Rather than just simmering apple juice and spices, try including washed, whole oranges in the stockpot as well. Remove the oranges before serving, and garnish with a cinnamon stick.
Warm juice toddies. To invent a nonalcoholic toddy appealing to all ages, play around with combining various juices – cranberry, pear and apple, for example – with spices or citrus zest. Bring the ingredients together over a simmer, and consider refrigerating the mixture in a covered container overnight to deepen the flavors. Reheat before service, and top off with a baked fruit skewer.
Spiced fruit smoothies. Lightly dust apples or pears with a spice mixture, such as a pinch of cinnamon, nutmeg and allspice, and bake until slightly softened. Remove, let cool, and combine with apple juice, frozen Greek yogurt and ice cubes in a blender.
Punch. Looking for another custom cold drink option? Dream up a festive punch. In a stockpot, simmer orange and cranberry juices with a seasonal spice blend and a citrus peel with no pith. Briefly boil, then let cool and strain. Refrigerate the liquid in a covered container, and serve chilled with ice. Add pitted sweet cherries for pops of flavor and color.